"Maca is an herbaceous biennial plant of the crucifer family native to the high Andes of Peru around Lake Junin".
It is a root vegetable, and rich in nutrients. It is well respected for its medicinal and nutritional benefits. You can find it in powder form in health stores, and in tablet form as a dietary supplement.
Maca root is full of minerals and vitamins, such as calcium, magnesium, iron , Vitamin C vitamin and vitamins B1, B2, B6, and B12, 'good' fatty acids, proteins and fibre. It is an adaptogen, a natural body balancer and revitaliser.
Maca root supports the endocrine system and is said to help to balance the body's hormones and can help to energise the body via its action on the adrenals, pancreas, pituitary and thyroid gland. It is said that it can help balance the mental faculties, as well as supporting both male and female libido, and, menopausal symtpoms.
As evidenced by this mornings smoothie, maca can be added to smoothies and juices. It thickens the smoothie and gives a subtle and sweet taste.
Another super food to add to your healthy diet!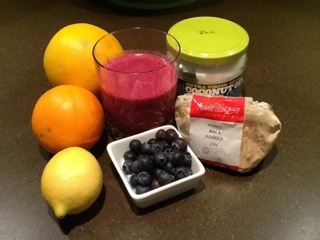 This mornings smoothie: in a blender place blueberries, juice of 2 oranges 1 grapefruit, one whole peeled lemon, a teaspoon of maca powder and one tablespoon of coconut oil. Blend. Sip slowly to give your body time to digest properly.