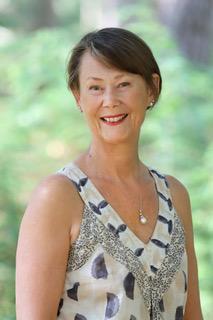 Jane has been exploring and working with complementary therapies since 1984.
She was introduced to yoga via her mother, who practiced Pranayama Yoga in the 60′s and 70′s, and has searched for a deeper meaning to life since 1978. This has lead her to explore many different therapies and practices.
In 1984, she commenced a tai chi and psychocalisthenics practice, learned Chua Ka (a fascial release method), and started to experience acupuncture, cranio sacral osteopathy, Rolfing, homeopathy, and the Chinese Five Element system. Between 1988- 94 Jane worked as a Shiatsu Practitioner. During this time she practiced Chi Kung and Makkho stretches, and furthered her studies of the Chinese Five Element system. Jane studied Shiatsu with, amongst others, Chris Jarmey, Chris Osborne, Michael Rose, Bill Palmer, Ohashi, Kishi, Pauline Sasaki, and Cliff Andrews. Jane started her own yoga practice in 1991 when expecting her first baby. Around that time she became interested in psychotherapeutic exploration both in peer groups and on a one to one basis, which she maintained until 2011, during which time she worked one to one with Linda Hartley for about two years.
Jane has studied yoga in India, Greece, Italy, Canada and the UK with, amongst others, Angela Farmer and Victor van Kooten, Donna Farhi, Sandra Sabatini, Billy Doyle, Rosella Baroncini, Sophie Hoare and Yasodhara teachers. She started teaching yoga in 1999 and has had a committed meditation practice since 2007. In 2008-09 Jane studied anatomy for yoga teachers and went on to assist on subsequent anatomy courses. This consolidated her ability to visually diagnose the cause of musculo skeletal problems. Her Remedial Therapy Method is the culmination of , and draws from, her many years of experience, and is helping many people experience relief from back, joint, and muscular pain, and is improving their quality of life beyond their previous expectations. Between October 2011 and June 2012 Jane spent four months going back and forth to Nepal to live in the jungle within the sangha of Guru Mahasambhodi DarmaSangha. This was a life changing event on every level.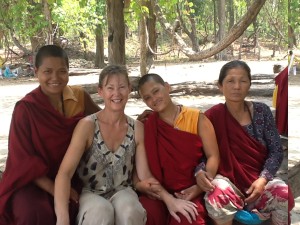 In January 2016 Jane attended the Yoga Development Course at Yasodhara Ashram, British Columbia, Canada, and then the Yasodhara Yoga Teacher Certification Course. She will be bringing Yasodhara Yoga to Europe on her return in June 2016, teaching in the UK and the Czech Republic.
As well as teaching classes, courses and retreats, she also works with private clients on a one to one basis, teaching yoga, pranayama (breathing), meditation, and supports people in healthy eating and lifestyle choices.
Jane is a Senior Yoga Teacher with the Yoga Alliance UK. She holds Continuing Personal Development (CPD) Courses for Yoga Teachers as well for as those looking for a deeper meaning to life.